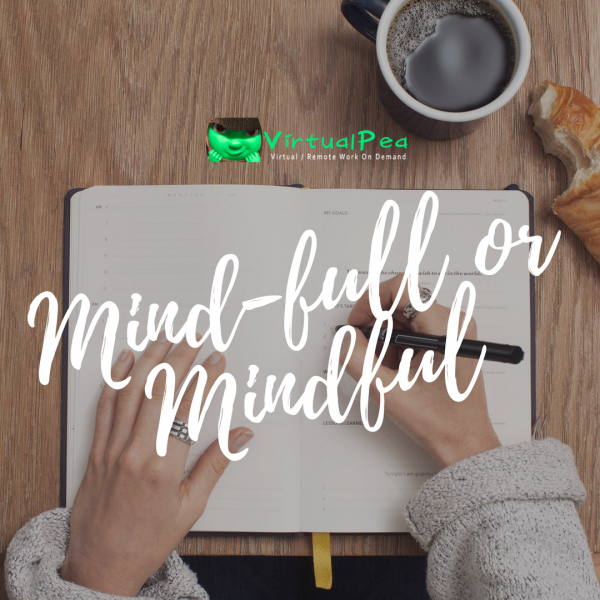 As an entrepreneur or business owner, are you stressed and overwhelmed? Do you know how to clear your mind and not feel overwhelmed?  Is your mind full, or are you mindful of what's going on around you? When your mind is cluttered, you'll never have the clarity and the calm that you need to do your best level CEO work. You'll start to feel overwhelmed and burned out just because of the frantic pace of your life and your business.
If your mind is full and cluttered with to-dos and ideas that are nagging at you constantly everyday, it will have a negative impact on your life. It will slow you down, keep your energy low and you are never 100% present. This all leads to feeling overwhelmed and anxious. Often procrastinating the things you know need to get done, simply because you need to create the time and energy to actually start and/or see them through. You don't have the energy for new projects that you know will help you get where you want to go in your life and for your business.
It's time to move away from having a mind full of to-dos and tasks to being mindful, #aware of where we're spending our time and our energy. #wegotit #virtualassistants
Click To Tweet
So, here's the goal…FREE UP SOME SPACE!  It's time to move away from having a mind full of to-dos and tasks to being mindful – having an awareness of where we're spending our time and our energy.
Grab this two-step process guide and complete it back-to-back to get the clarity and the calm you deserve.
Get out of ongoing emergency mode.
Click To Tweet
Entrepreneurs know of the anxiety that comes from an unending to-do list.There are all of the little tasks that you continuously procrastinate on that you just don't like doing or not proficient in doing; and would even avoid completely – but you know that it's gonna bite you in the butt if you don't get it done.
Then there's the tasks that need to get done, but you end up using them as a way to constantly put off the bigger picture projects you know will grow your business. Now with a mind FULL to capacity of all these unending to-dos, is it any wonder that you find yourself exhausted and burned out?
It's time to create some RELIEF!
Get the guide to do these two exercises! It brings instant clarity and lots relief! Find out which tasks to minimize, systematize, or even just stop doing completely! You deserve to have a well-balanced life with a successful business and a fulfilling personal life with family and friends. Stop carrying all of that weight. Grab the guide and start transforming that cluttered mind full of tasks and ideas into a strategic master to-do list that will help you be more successful in completing your goals.
We are here to help! Contact us today and move those tasks from your plate to ours.