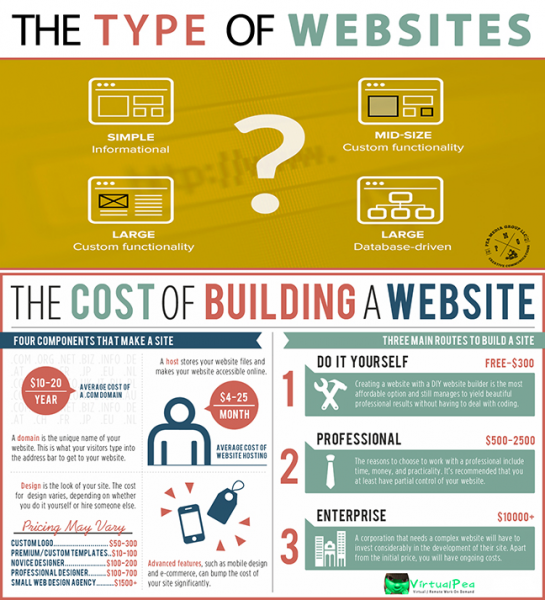 We receive inquiries from various entrepreneurs about the cost to build websites. For some of them that are just starting out, they have big ideas and are very optimistic about the success of their business through their websites. However, they tend to not account for the cost of their ideas which is usually a bit more than they budget for if they have a budget at all.
Usually, this is because they aren't privy to the cost or the structure until we share with them the breakdown of their web project based on their ideas. At that point, they want to know 'how much does it cost to build' and 'how long does it take to make a website'. In an effort to never crush their dreams, we provide the steps, timeframe, and the cost of their web project in phases.
Do what you can to help any entrepreneur's dream become a reality! #entrepreneurslife #sharethelove
Click To Tweet
This works out well for some. For others, they choose to either do it themselves or wait until they are ready financially to get it done professionally. Either way, we do what we can to help any entrepreneur's dream become a reality. Let's go over some details about the types of websites and the average cost of websites.
The Type of Website
So what type of website would you like to build? That's the first question you want to get really clear on.
There are simple, informational websites: the one-pagers, lead/landing pages, or the ones with about 5 pages such as Home, About Us, Services, Blog, Contact Us pages. These are great to use to start your business to get your information up and out to the world. They are also great for different freebies you want to create to pull in more leads for your business. And even great for information about a product or service you'd like to promote or a resume/CV, or a pitch deck or any type of report (i.e. annual report) you'd like to make available online with downloadable content.
There are mid-size, custom functioning websites: the sites that promote events and allow people to sign-up for the event, or the booking systems that allow visitors to schedule appointments. These sites are great for the entrepreneur that is ready to take the CEO seat and run a business.
There are large-size, custom functioning websites: similar to the mid-size, custom functioning site yet larger with a few more features such as the ability to sell products from the site (eCommerce), book appointments, or register for online or offsite events.
And then we have the large, database driven websites: these are sites such as hospitality sites that require reservations/booking rooms and banquet halls, or an online store with over 1000 products, or real estate sites connecting to IDX systems.
Four Components That Make a Site
There are 4 basic components that make a website:
Domain – You will need to register a domain name for your website. This is your address where your website is located on the world wide web.
Hosting – This involves a server to store all of your web files, email accounts, databases, and scripts that causes your web presence to function.
Design/look of your site – Your company branding is what drives the look of your web presence which includes optimized graphics throughout your website and in your blog posts.
Features to help your site be a great business tool – There are many features to add to your site to help your visitors sign up, register for events, schedule for appointments with you, purchase your services/products, interact with you and your business, gather analytics to get to know your audience, optimize your site for SEO and load fast, and many more features that suits your business.
There are 4 components that make a website: domain, hosting, design/look, and features to help your site be a great business tool. #success
Click To Tweet
Let's Get to the Costs
We've broken this down to 3 routes you can take to build a site that is suitable for your business and your business budget.
You can do it yourself! Sometimes this option is best. If you're just starting out and you didn't actually factor in a budget to handle the the cost of building your website, doing it yourself can be a good option with great success. The cost ranges from $0 – $500. There are now many DIY website builders out there where you can put up a site with ease and no coding.
You can go with a Professional website in the range of $500 – $2500 with ease. This can go up to $5000-$8000 with added features and a customized platform. Entrepreneurs that are upgrading from their DIY websites or those that are rebranding go with this type of site. Over time they upgrade to a well tailored site that suits the needs of their business and provide ease and a more upgraded user experience for their visitors potentially converting them into clients/customers/buyers.
Most corporations and some small businesses go for the Enterprise website investing in amounts starting at $10,000. These are well developed, customized and complex websites.
There are many different routes to take to get your website just right for your business. You can choose platforms such as Squarespace or WordPress. If things become too technical for you to continue buidling your website this way, let us help you with it. Just contact us or click to chat (below) with our Success Team and we will get you just what you need.
---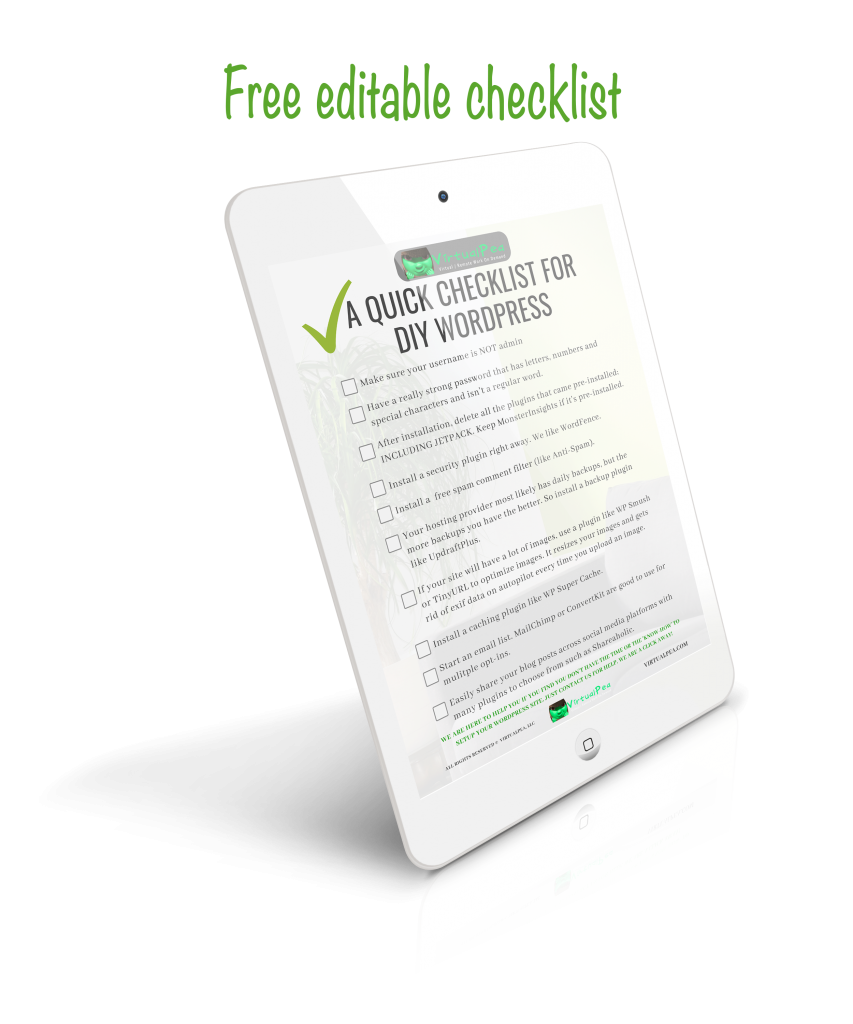 Grab our FREE, editable website checklist to help you while building your WordPress website. It gives a few great tips.
---
Understanding the Base Price of a DIY WordPress Website
Are you deciding to go the DIY route to put your WordPress site? A typical breakdown of expenses required to get up and running might look something like this:
Domain: $15/year
Hosting: $10/month – $30/month
Premium Theme: $50-$200
Premium Plugins: $15-$200 (each; some are one-time purchases, others are monthly/annual licenses.)
Rough Totals: $200-$1,000+
---
Turnkey WordPress Setup & Maintenance
Here's a few models we've seen:
Hourly: $50-$100 per hour
Flat Rate: $500-$1000+
Monthly: $30-$50/month (in addition to the initial hourly or flat rate fees)
A-la-cart Extras: $100, $200, etc. per strategy document, training course, and so on.
Rough Totals: $500-$2,500+ (plus possible monthly or a-la-cart services)
---
Custom WordPress Design/Development
This type of custom design requires one to be proficient in PHP, CSS, Javascript, and MySQL which we are.
Many custom WordPress design and development work falls within the following price ranges:
Custom WordPress Theme: $3,000-$6,000 (for design and development)
Custom WordPress Website: $6,000-$15,000 (for design and development, with custom plugin functionality)
Custom WordPress eCommerce Site: $6,000-$20,000
Custom WordPress Web App: $15,000-$60,000+
---
Your website feels like a great deal when the value you get back in the form of it is greater than the money you invested. #success
Click To Tweet
At the end of the day, it doesn't matter how much something costs as long as you come away feeling like you have a great deal. That only happens when the value you get back in the form of your website is greater than the money you invested. This is just as possible at $20,000 as it is at $500. It's all in how the process is managed.